We've been enjoying this fire pit hangout for months, but it hasn't been on the blog … until today. This is basically a lesson on how a fence can make a HUGE difference in how an area is defined, which can result in adding some simple outdoor furniture (in this case it was four Adirondak chairs and a fireplace – which fell to the ground and immediately created a completely new "outside space" for our whole family).
We hang out here doing s'mores at least once a week (and sometimes a lot more) so it was a very welcome addition. Especially at a time when everyone spends a lot of time at home, something new and new like this bonus hangout zone feels special. We even made s'mores for dessert on Thanksgiving and New Years Eve, so it's fast becoming a family tradition.
Here it is before we even get the fence painted. I'm telling you the chairs and the fitness pit hit the floor and we were so excited right away to use them right away.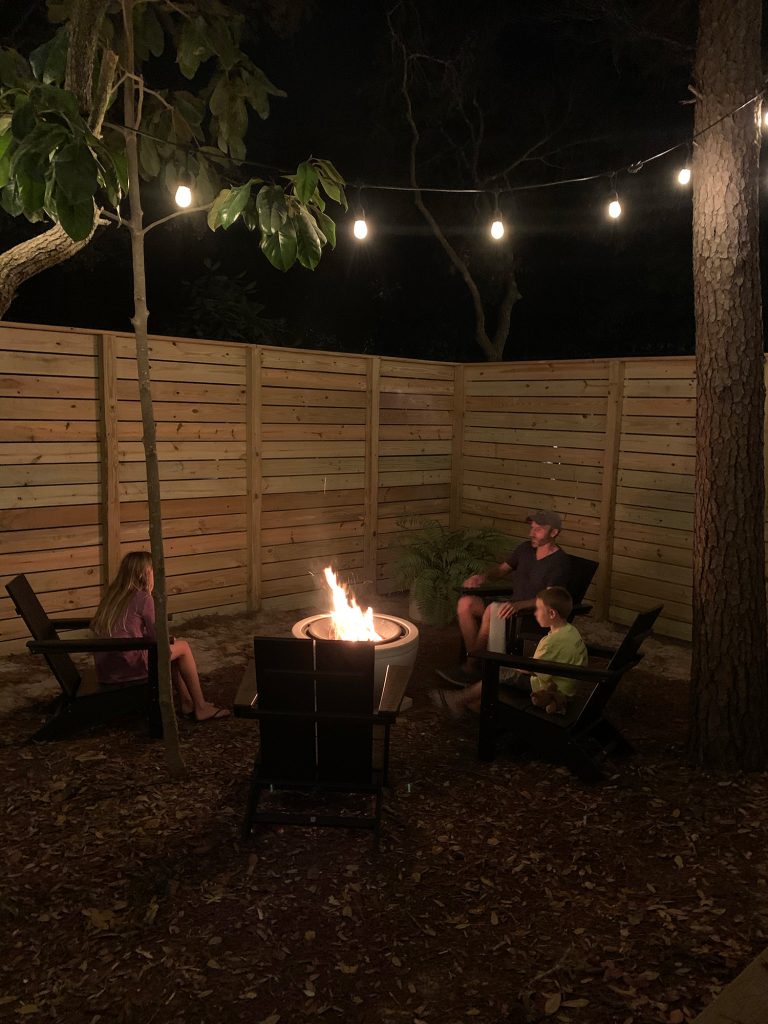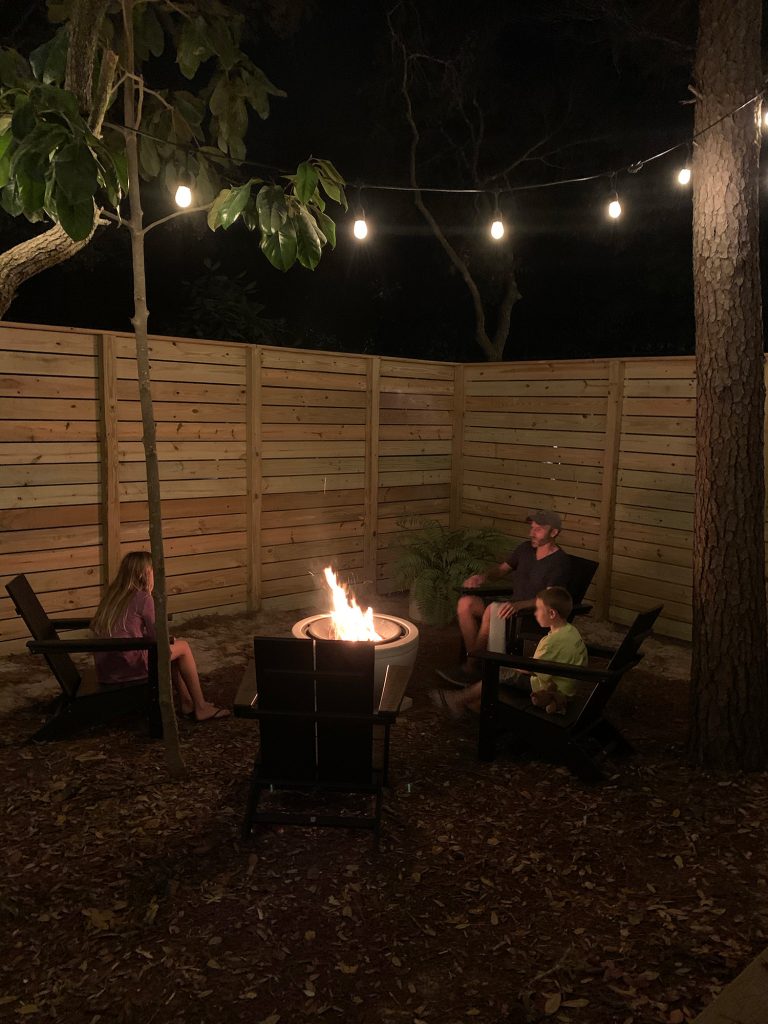 We now consider ourselves s'more lovers too, so we can tell you all sorts of fun mashups we tried, like cookies instead of graham crackers, peanut butter cups on the Hershey's chocolate bars – and maybe our favorite change: Andean coins instead of chocolate (I know this sounds weird, but trust me).
Here the setup is painted with the fence at night. You know John has our fairy lights on one intelligent external plug so they automatically arrive at dusk, which draws us like moths outside to a flame.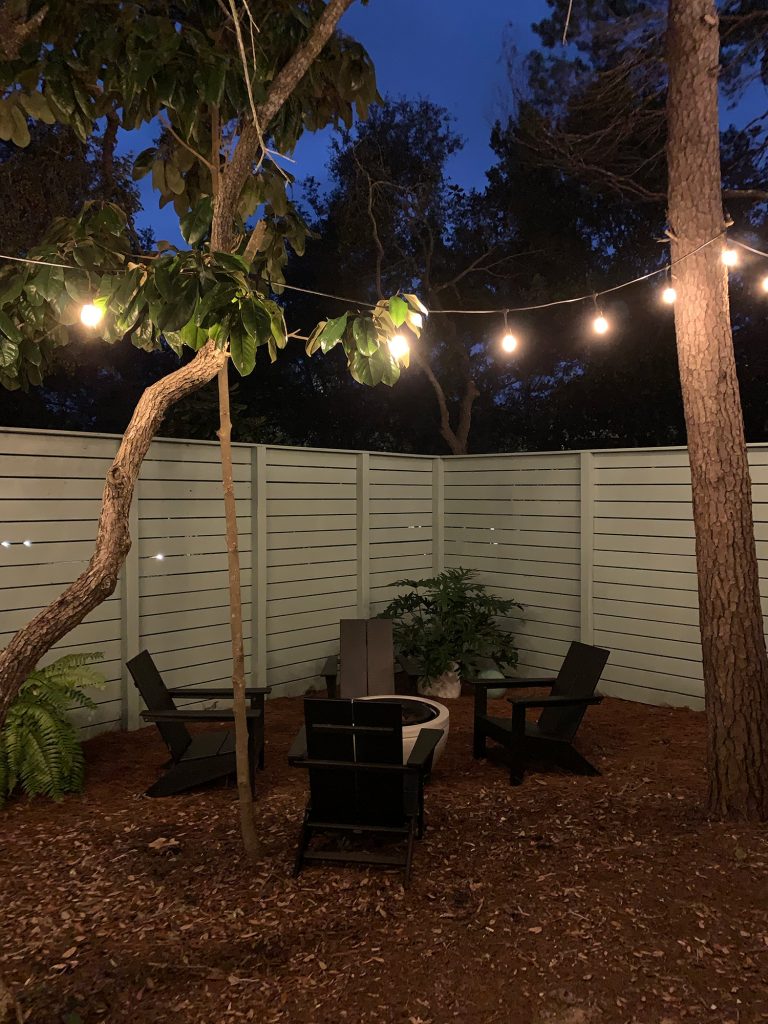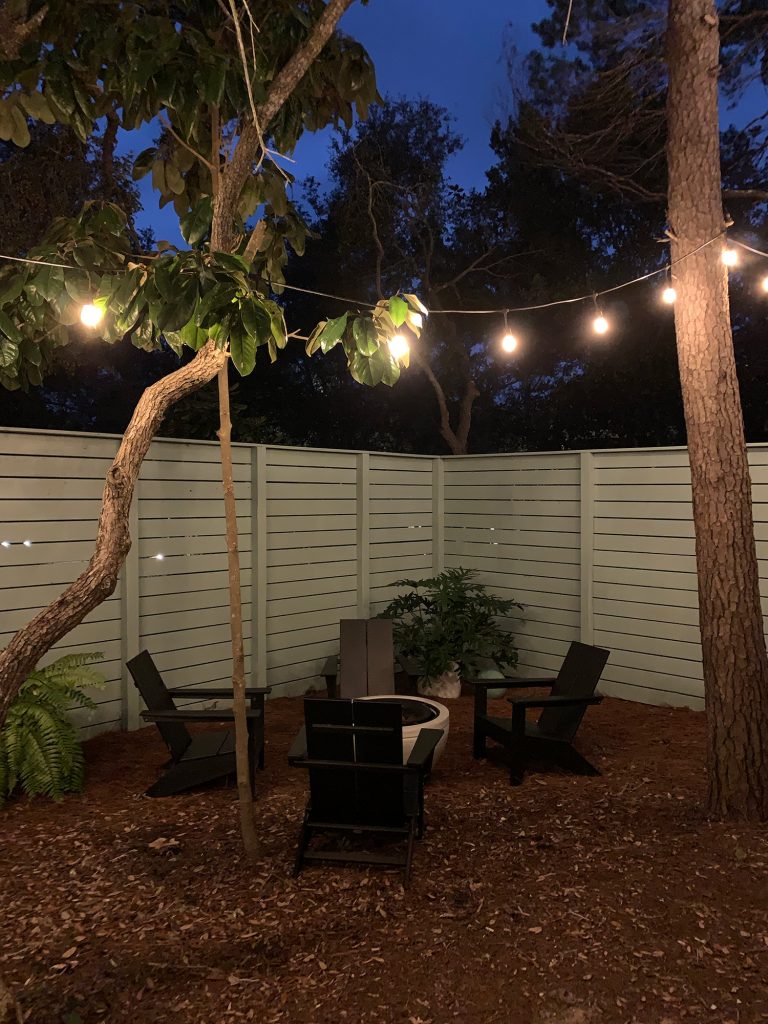 And here is the new view from our bedroom during the day, which is about 780% better than before (we used to just look at the street). From the start we set out to create this private little terrace next to our bedroom to take a break for adults after the kids go to sleep, which definitely happens, but with the added fire pit we can all enjoy this area together too – what else is better.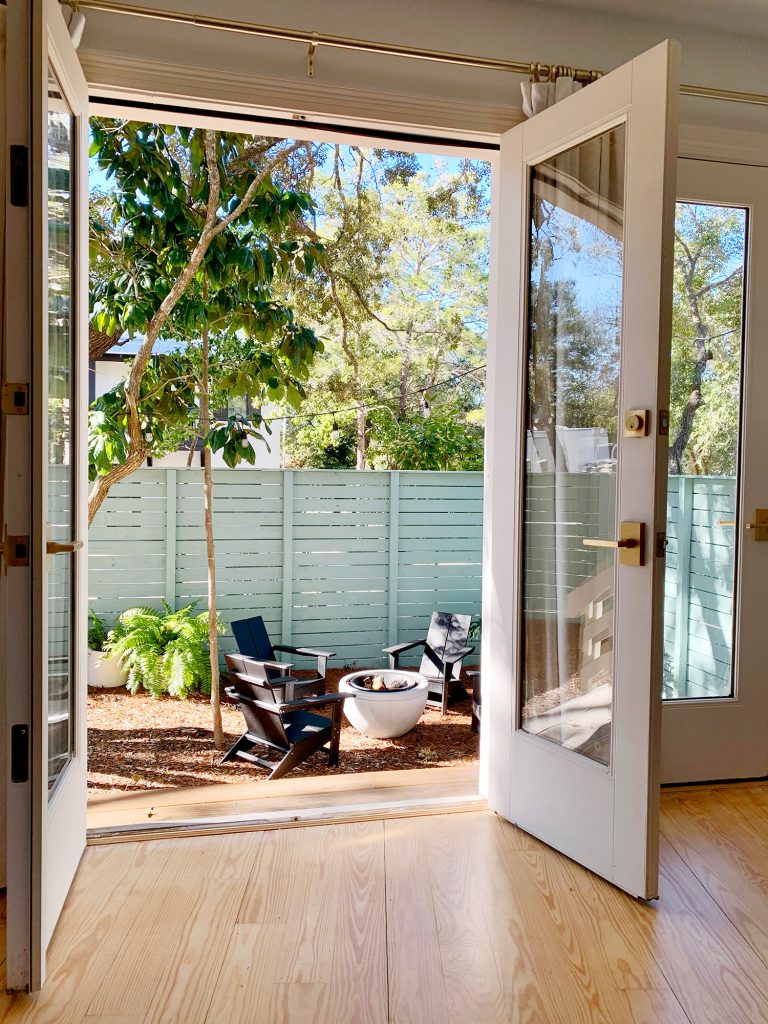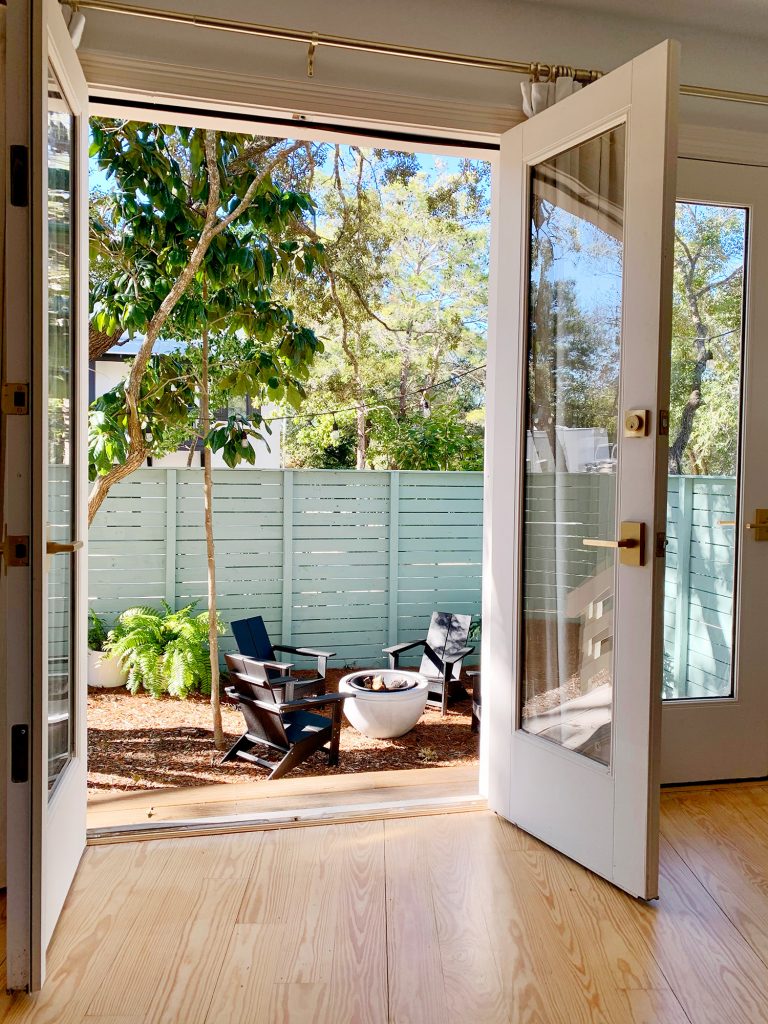 Do you remember how I said the view got about 780% better? Well, this is what this area looked like without a fence. Our house is on a corner and for the most part was just a dream field of pine needles bordered on two sides by the road. We have always imagined fencing in this area thanks to our neighbor on the street who has a similar situation and whose fence makes the difference.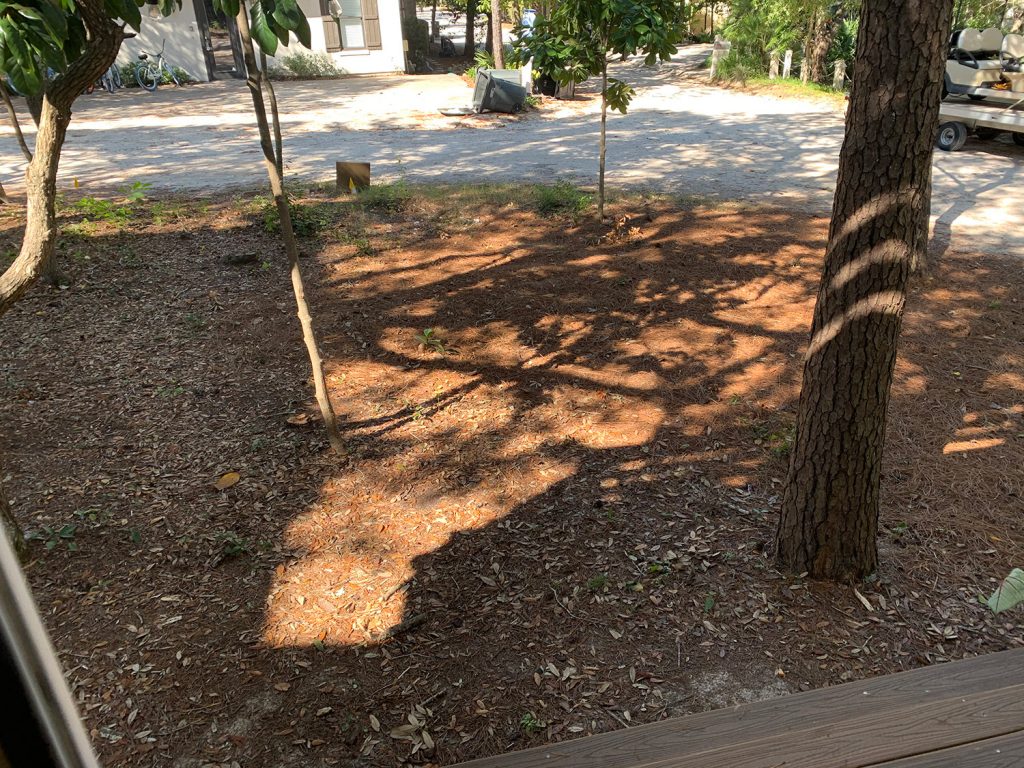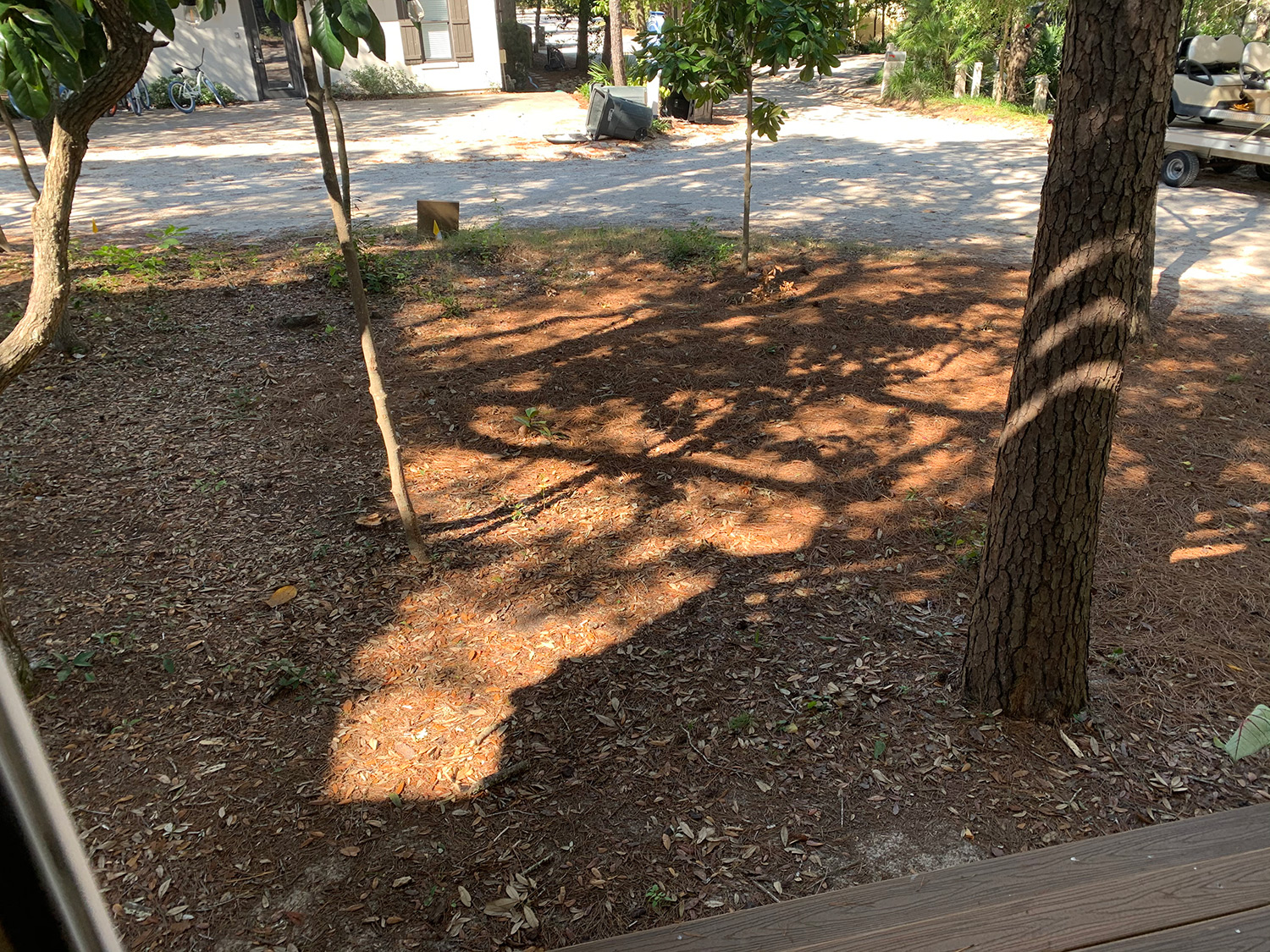 Here we are now, with the fence added and painted (the color is Halcyon Green by Sherwin Williams, which changes color throughout the day – and therefore appears greener or lighter in some of these photos depending on the cloud cover, time of day, etc. ).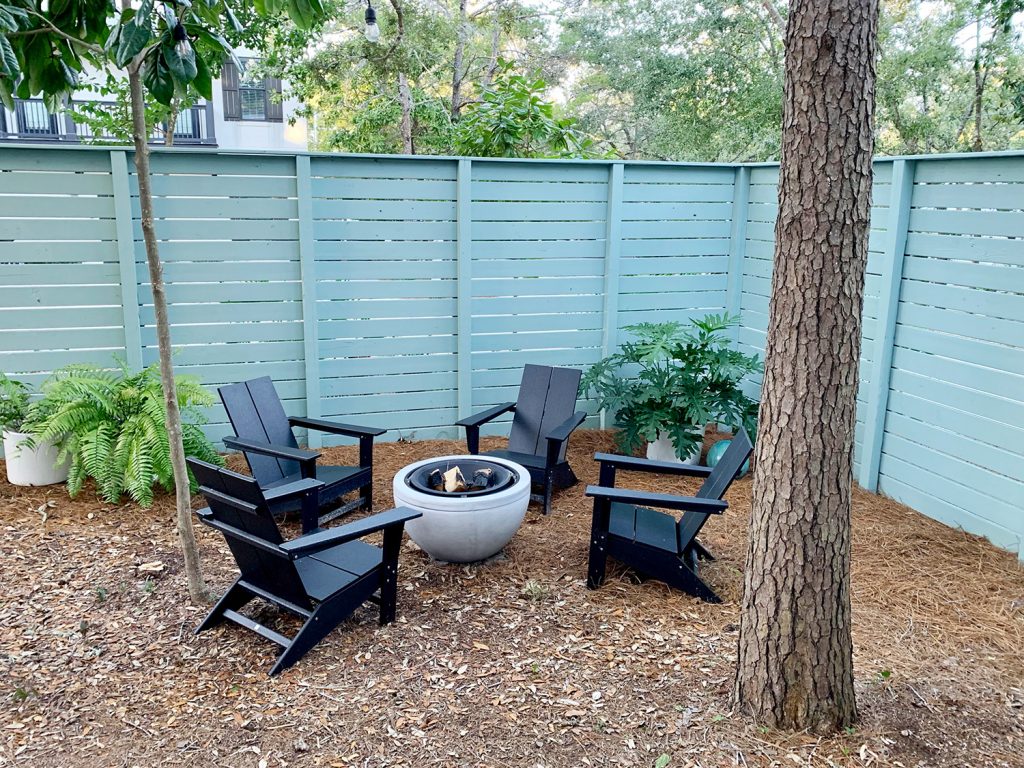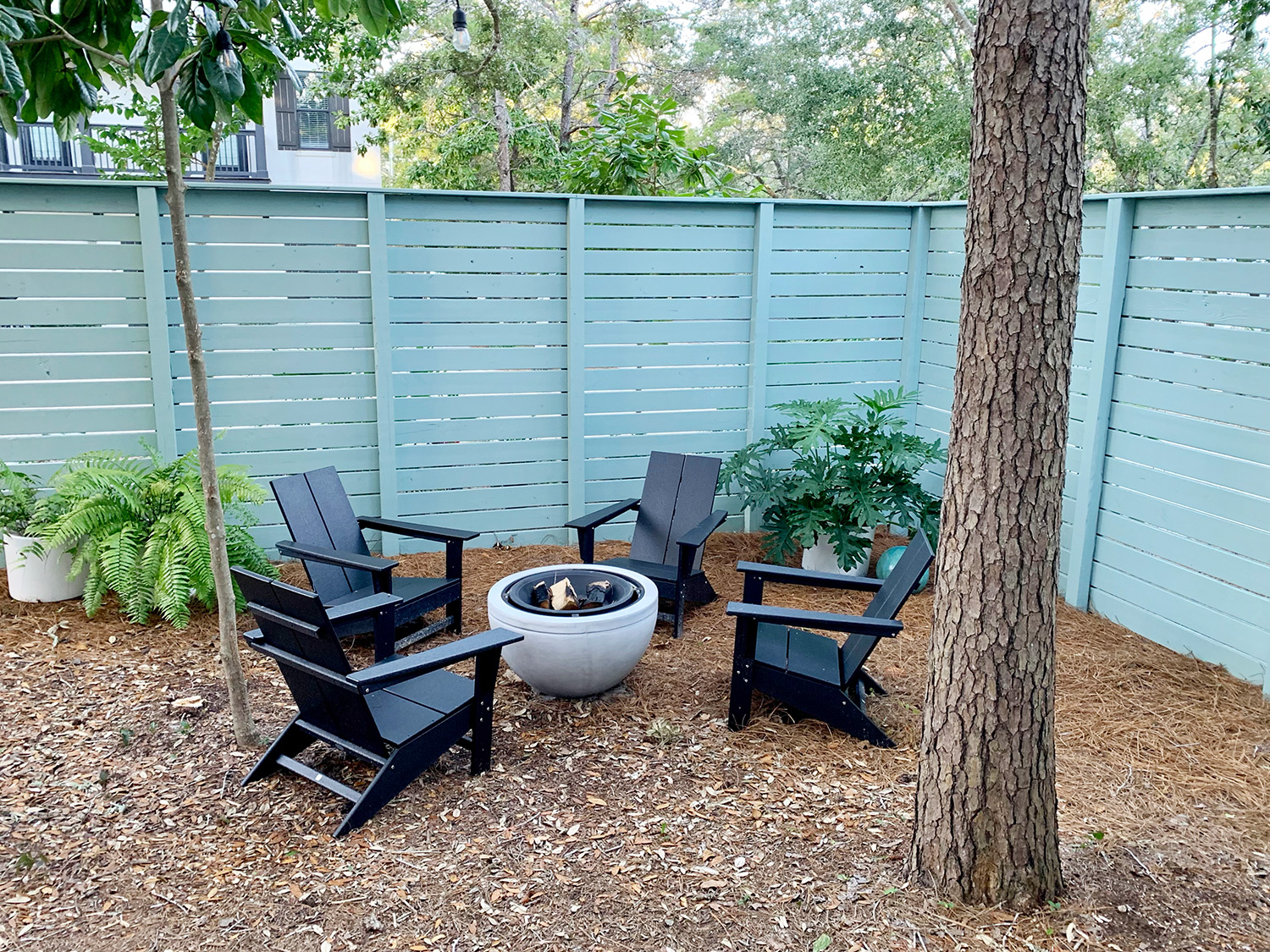 The shade below is probably what it looks like most often (it seems bluer than usual in the photo above, probably because the sun was behind a bunch of clouds). We wanted a nice calming color that would sit in the green outside without feeling too loud and crazy or too boring, and we're really happy with it. Note: our friend Kitchen cabinets are the same color and they look great! You can see them Here.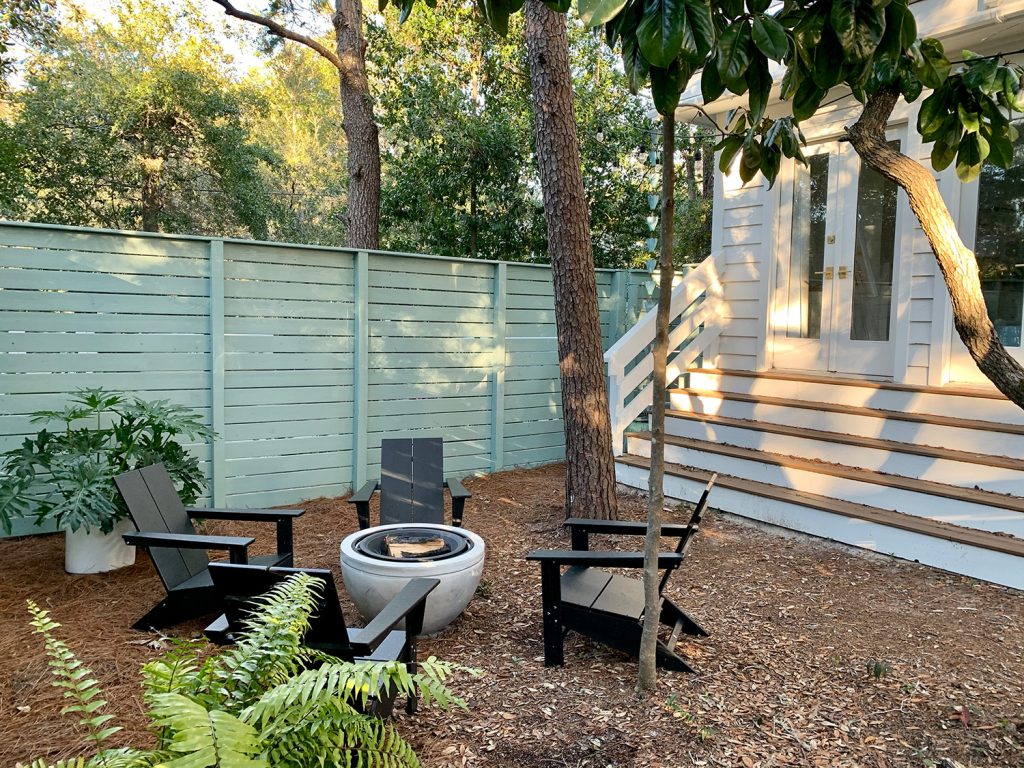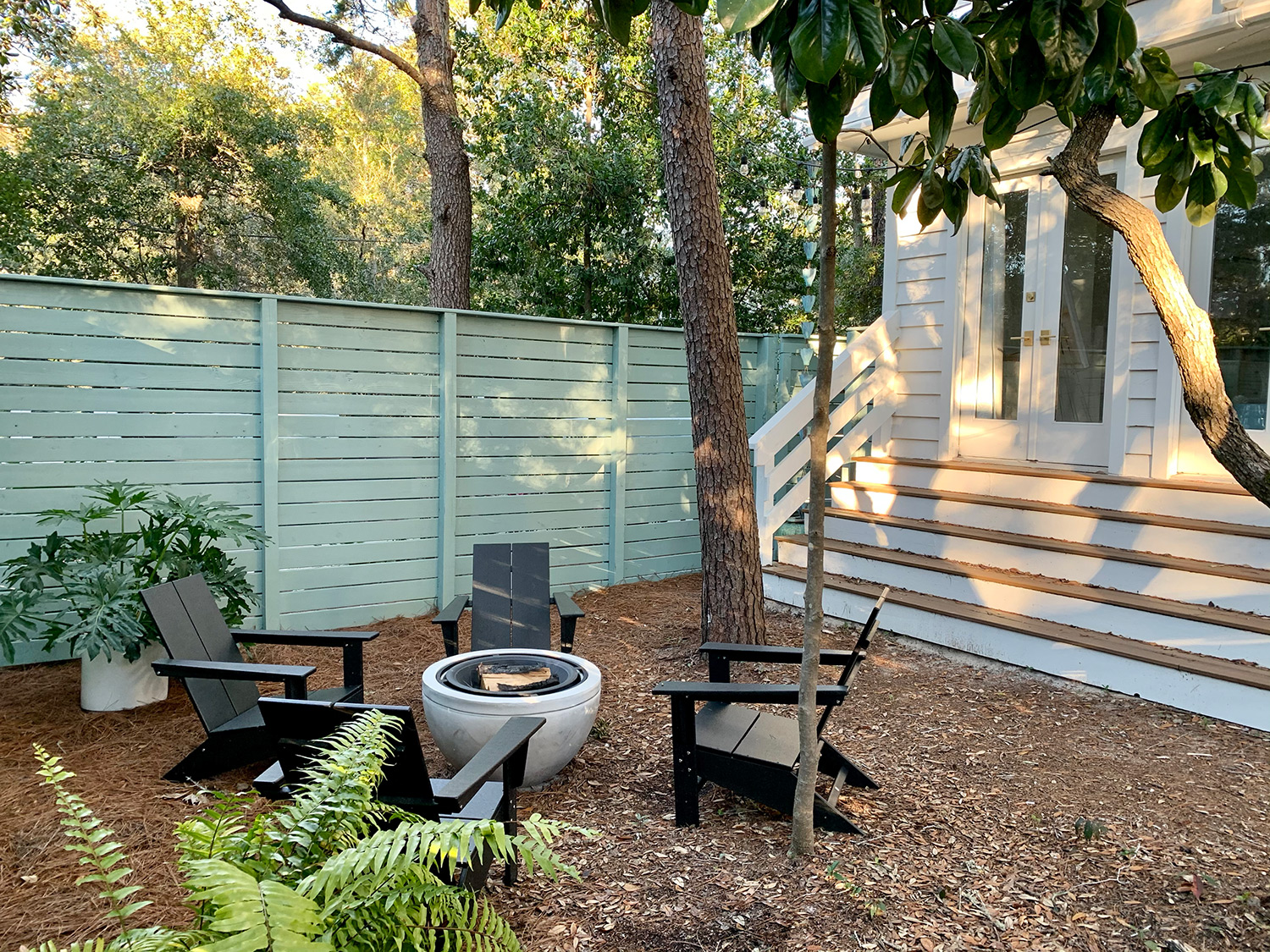 As for the details of the chairs and the fire pit, this is it the exact fireplace that we bought. We really wanted a solid, solid looking pit, and it wasn't easy to find a 30 inch wide pit with a nice, clean, concrete-like bowl – especially at this price point. We used it a ton and so far have been very happy with it.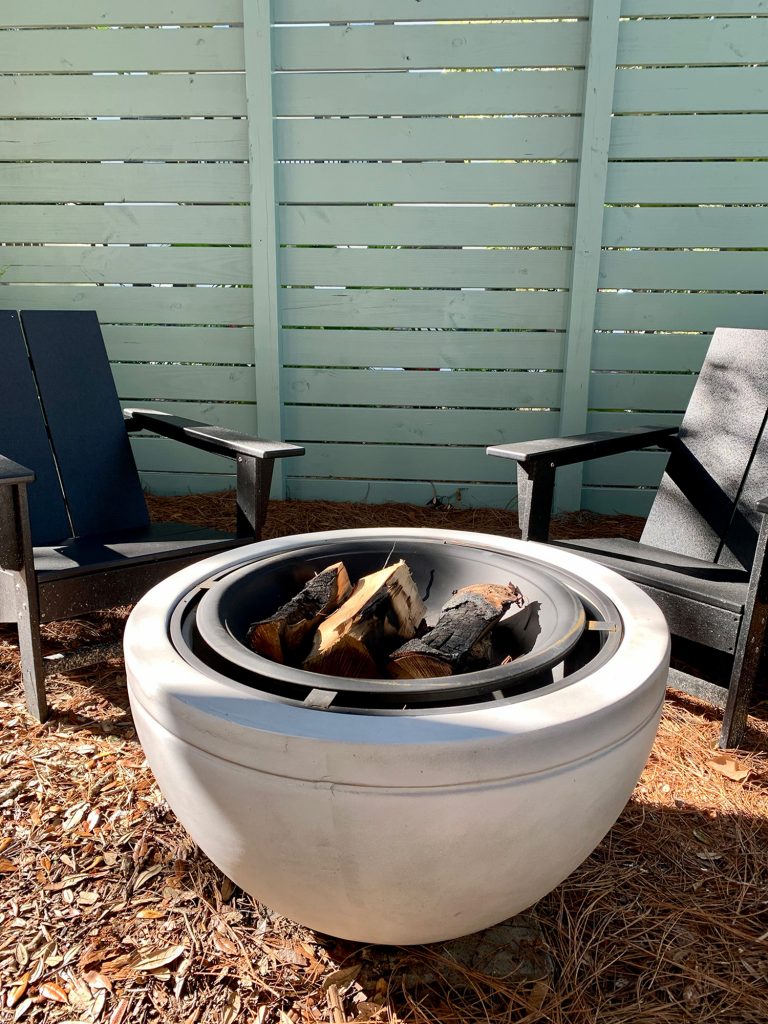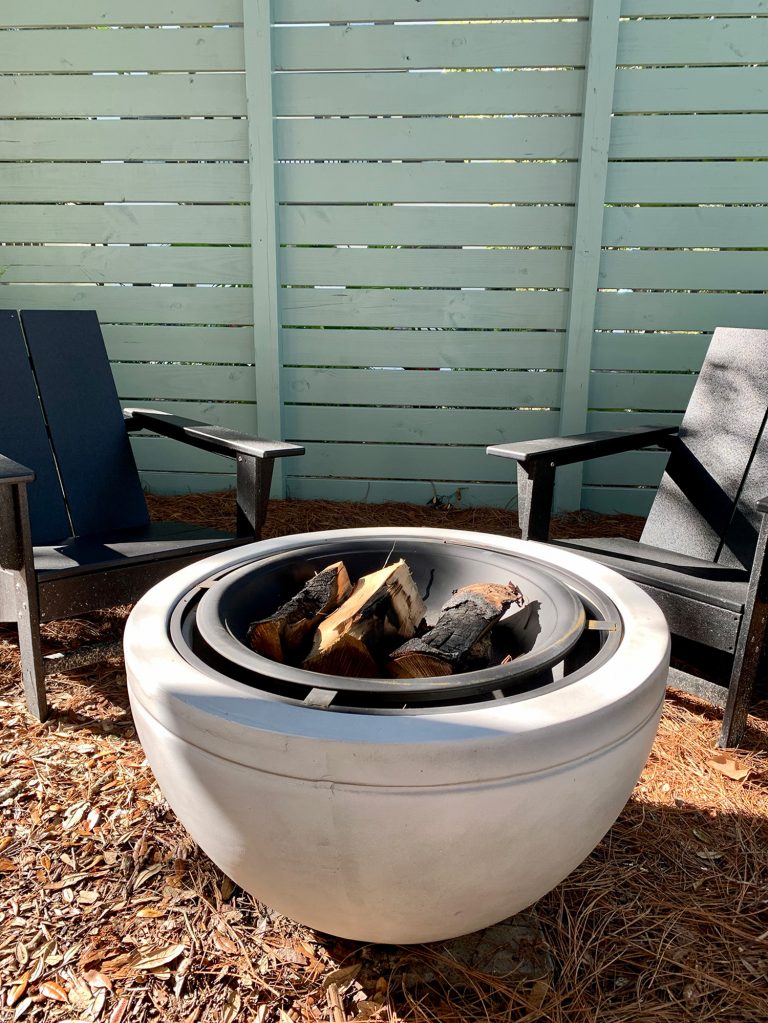 You can see in this photo above that the fire pit sits on top of a large square concrete paving block (it's easiest to make out the gray corner to the right of the base in the photo above). Here's a closer look below: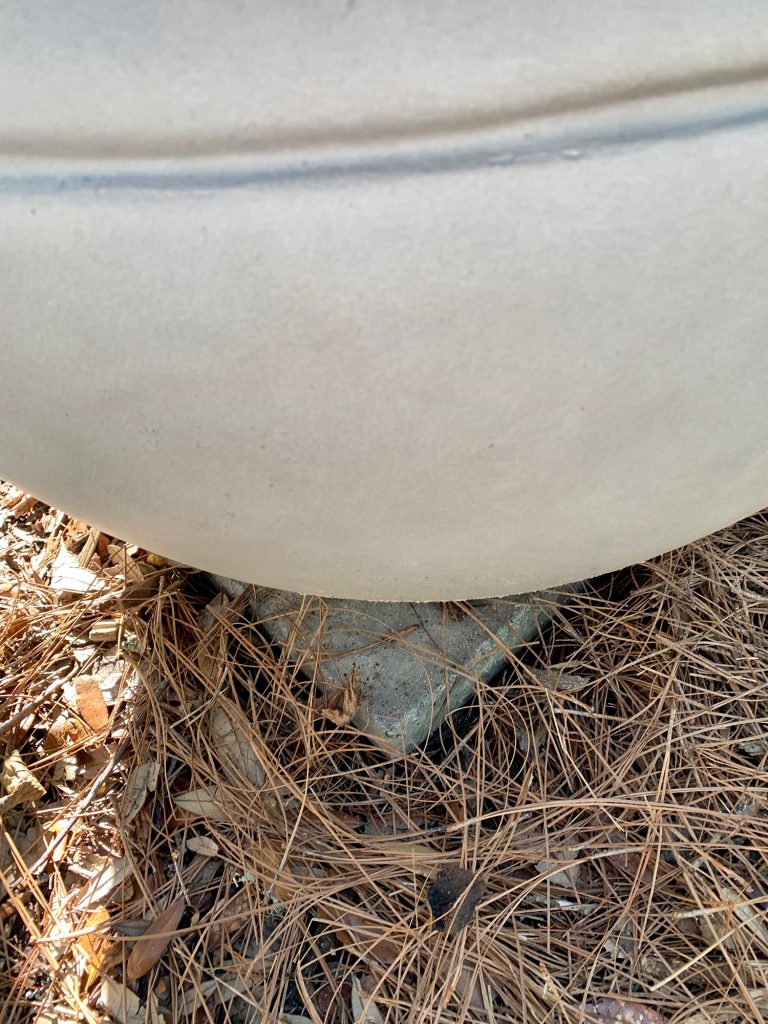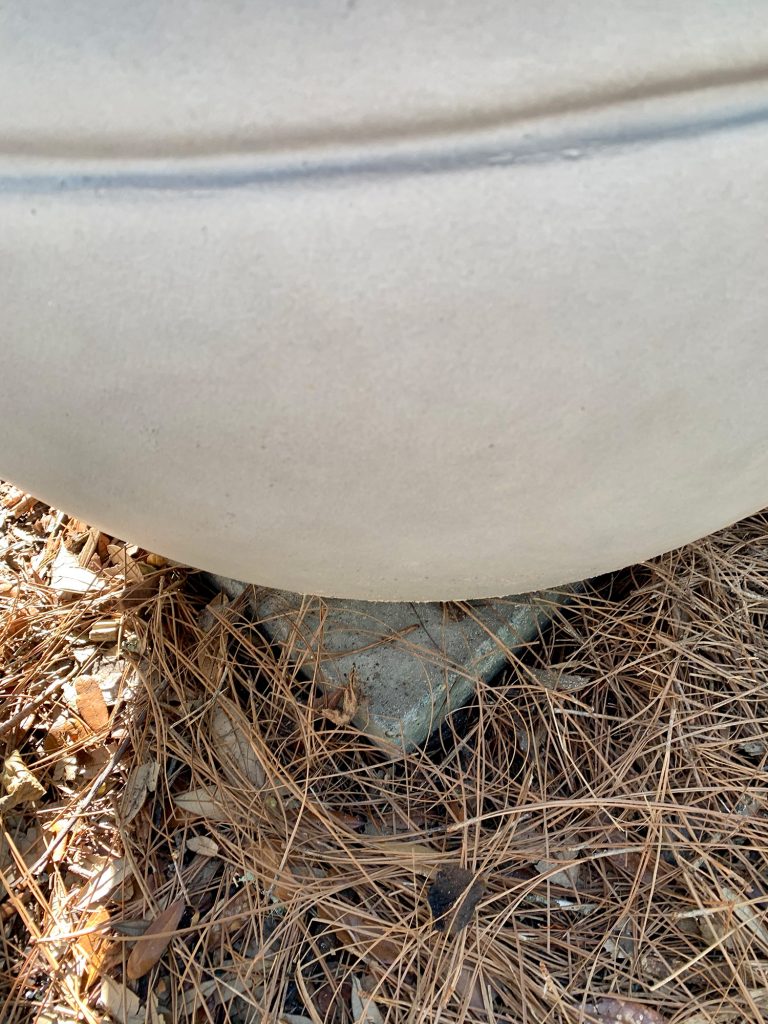 The instructions for the fire pit make it clear that it shouldn't stand directly on a wooden deck and recommend placing it on a concrete plinth so we slid a large concrete paving block under ours. The white part of the bowl doesn't really heat up at all (the metal part that holds the burning logs on top definitely does!) But we're a fan of instructions. So we wanted to point it out to everyone else who is getting one. You don't want to just drop it on pine needles or a pile of leaves or old wood … aka: kindling.
The chairs are these the exact we bought that. We didn't want maintenance, so their fade-resistant, fade-resistant construction was appealing, and their eco-friendly design is cool too (they're actually made from a plastic mix that includes recycled milk jugs and detergent bottles!).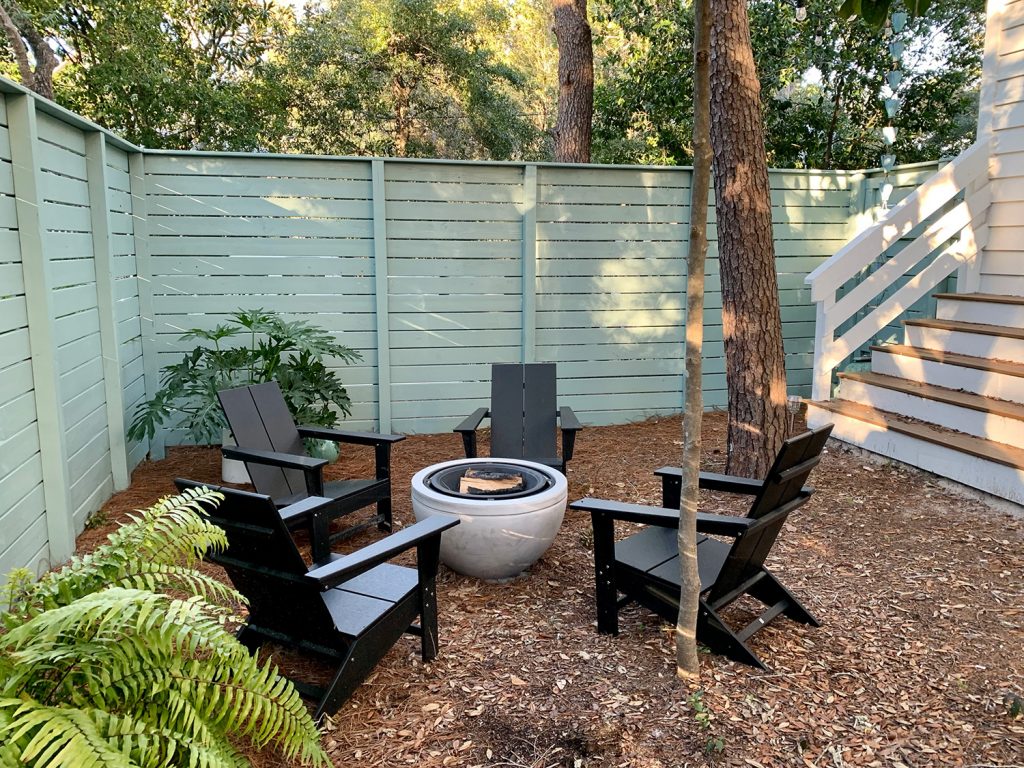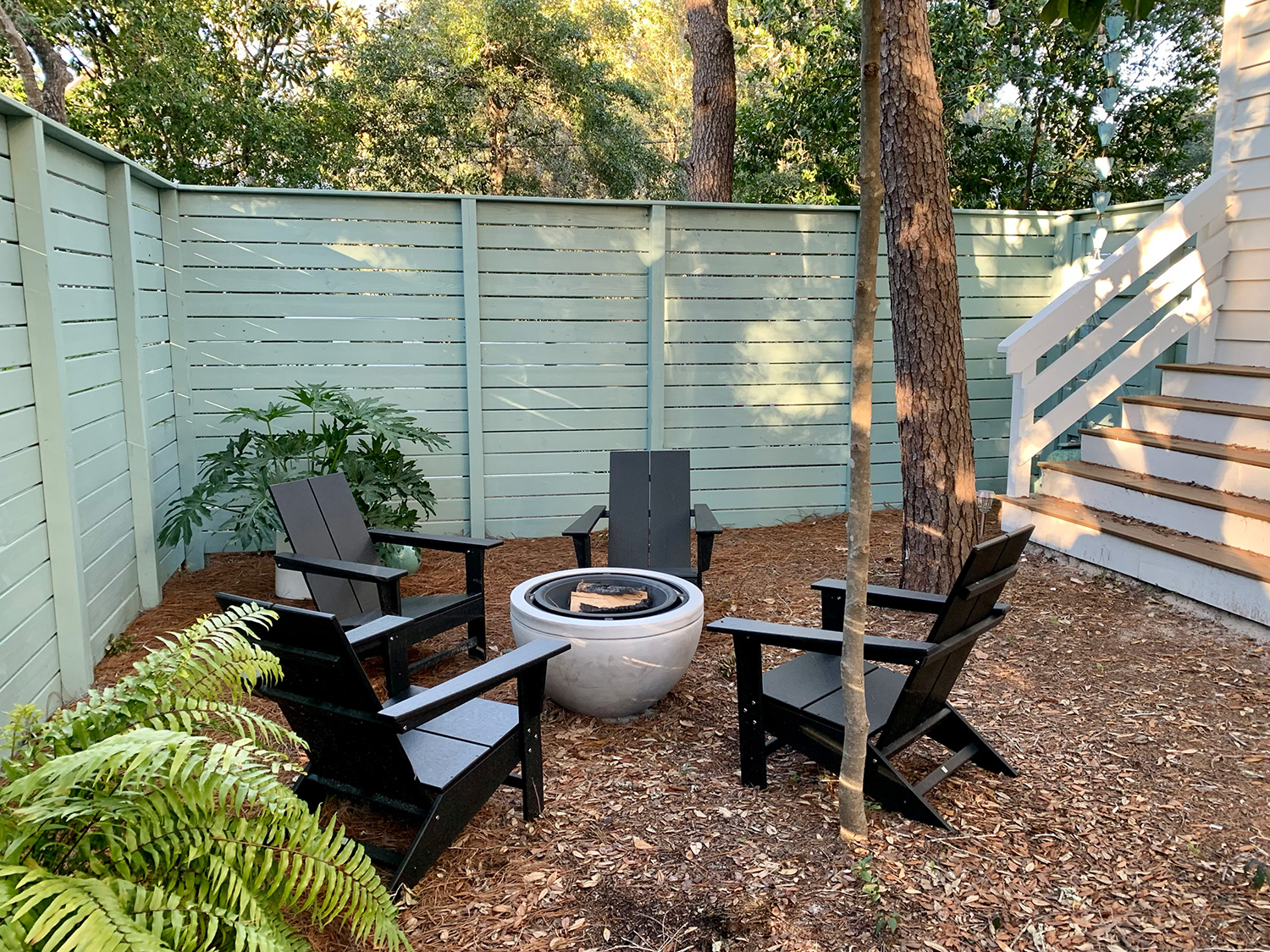 They're super comfy too (the extremely good reviews made us choose these from 679 options – and they're accurate – these chairs are GOOD). As if neither of us wants to get up and go to bed when we sit down. We stay in them for hours, even if the fire goes out in glowing embers and we should definitely go to bed.
So that's basically the story of how a fence and some simple patio furniture created another outdoor space for us to enjoy. And let me tell you, if you purposely choose to have a lot less interior space … AND you move to a warmer place in hopes of spending a lot more time outside … maximizing your outside areas is one of the best things to do that you can do! Not only does it give you more space to spread out and enjoy beyond the walls of your home, but it also draws you outside all the time.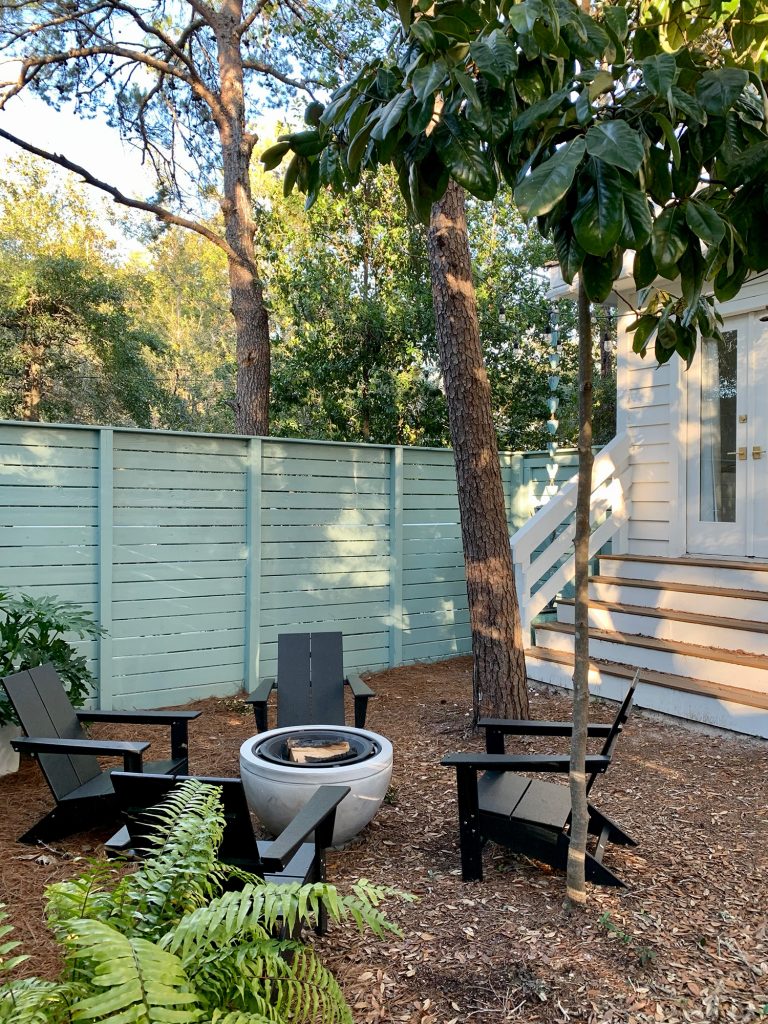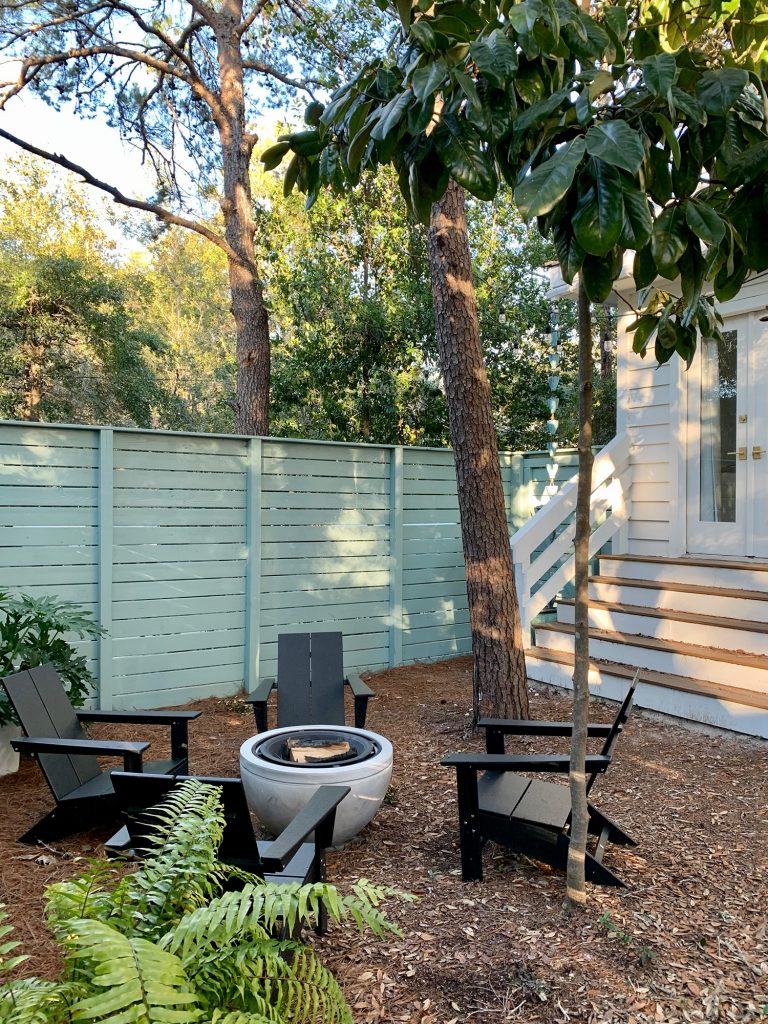 As we get to the fire pit area we can access it from the glass doors in our bedroom or from the front door as we added this gate that opens to let the people in here by our rain chain.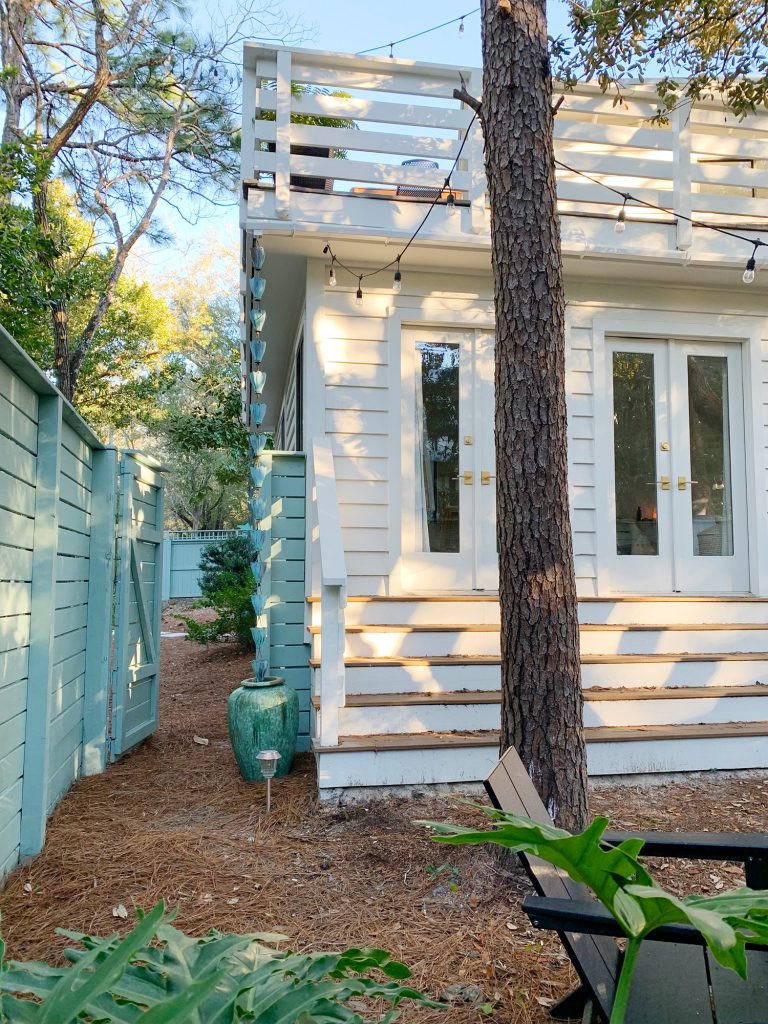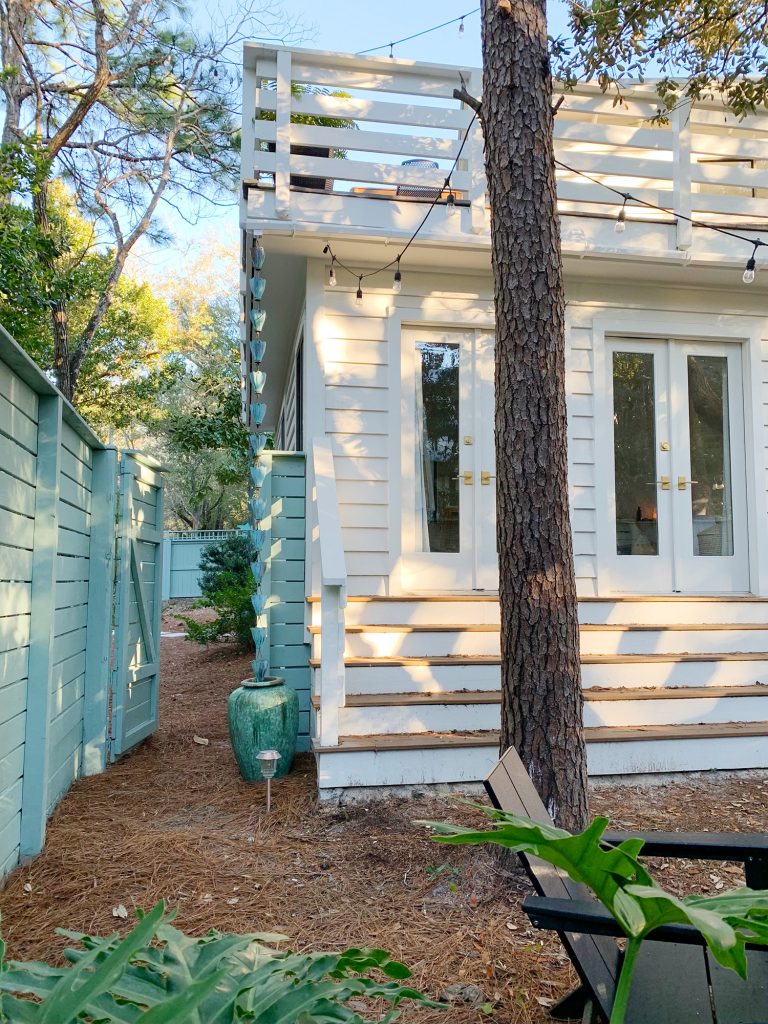 Here is the view from that gate as you enter the fire pit area. I love this little decorative garden ball next to our large white planter (we found the ball at a local garden center and have about a million of them large affordable white planters around our house). The garden ball (here is a similar) is almost exactly the same color as our patinated rain chain (here is a similar one of those) and both are a deeper / lighter version of the fence color, so having those tones superimposed in this area is very comforting.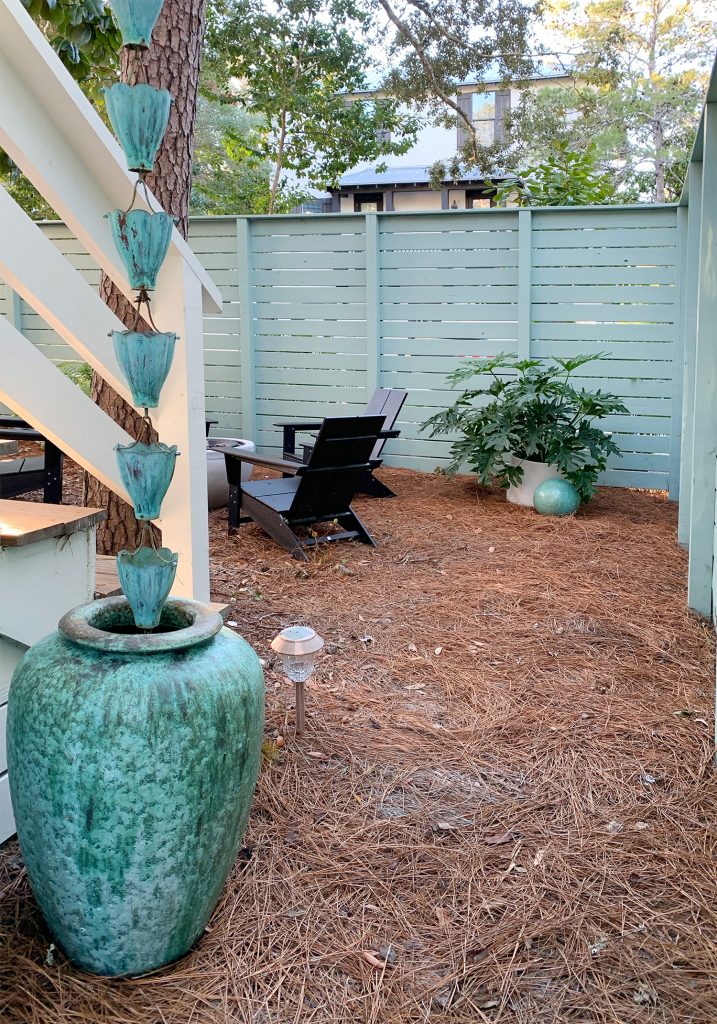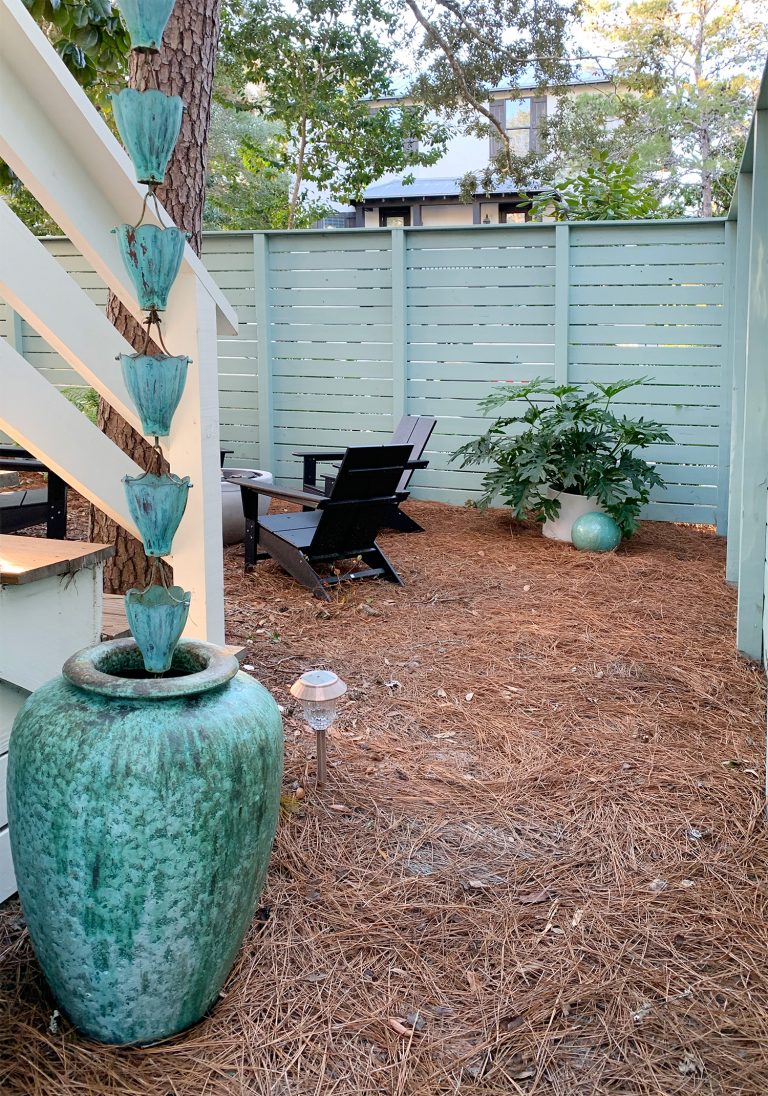 Here's a closer look at my beloved glazed garden ball, just for fun.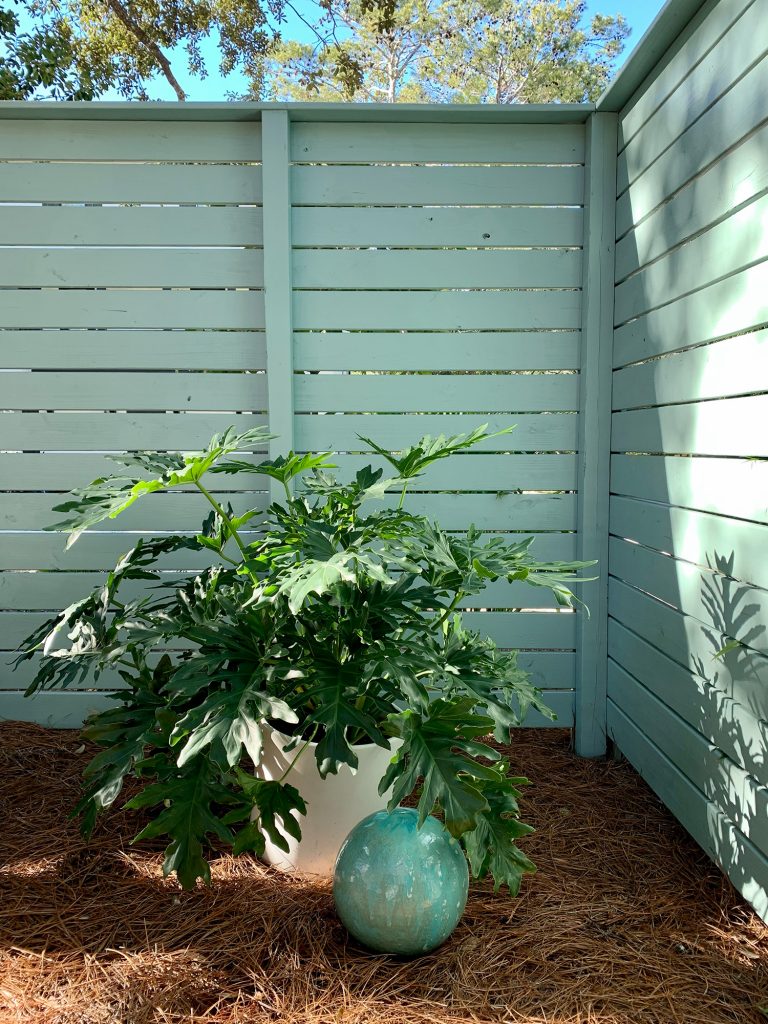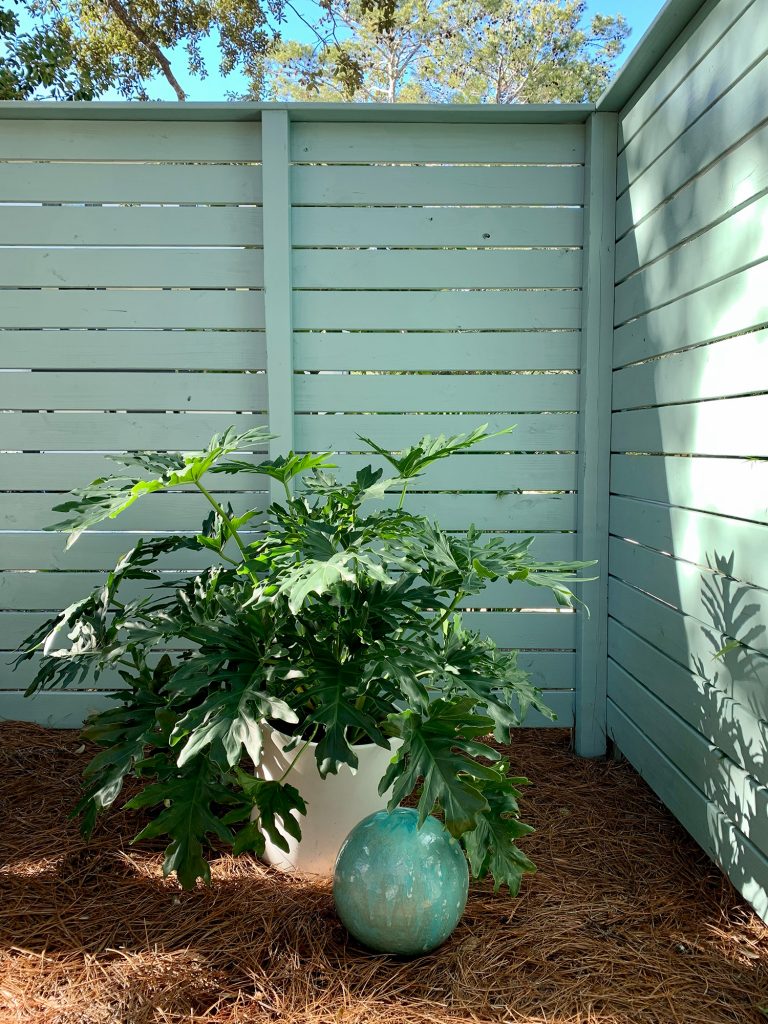 Oh and to orient you a bit more, here is the hanging tent We have added for the children (more on this in this post) so you can get a better feel for that side of the house as a whole.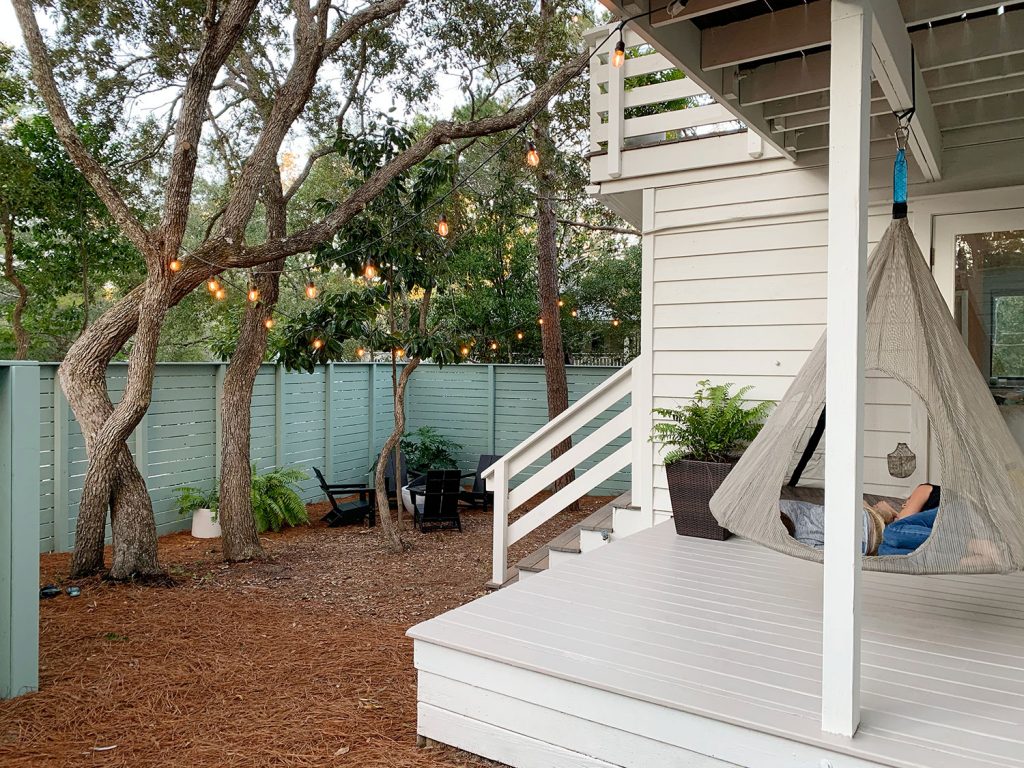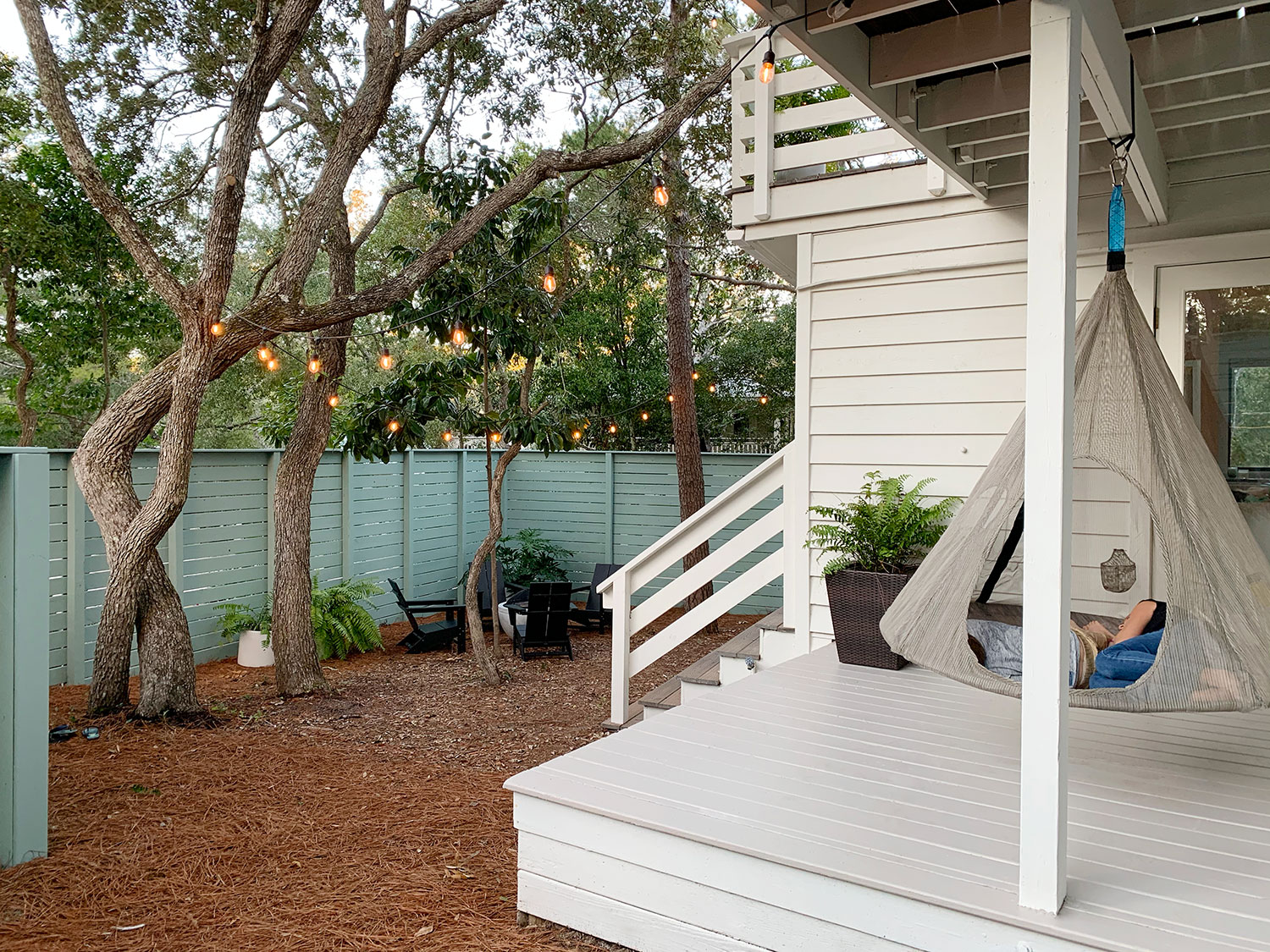 And since a video tour is basically worth 1,000 photos, here is a brief overview of the fireplace area:
Note: You can also view this video on youtube, Here you can enable automatically generated subtitles if this is helpful to you.
Ok now we can sleep at night knowing that this area we love has finally been documented on the blog. Unless we're sitting in the Adirondack chairs right now. In this case we are tired, but also very comfortable, so we have to get up for a few more hours.
PS You can see every single update we have made to this house over the past 9 months at this point. Much progress has been made from the exterior updates for each interior.
* This post contains affiliate links *
More contributions from Young House Love